The Sunday Post is a weekly meme hosted by Kimba @ Caffeinated Book Reviewer. A post to recap the past week, and share news about the upcoming week.
Since today is also the last day in March I'm going to do my book haul as well.
My monthly book haul is where I take an account of all the books I have acquired this past month. March was a very productive month for me, both in terms of readings as well as in terms of reviews. I don't review all the books I read. Some books I'll write a small review on Goodreads, some I'll just rate, and some reviews I'll publish on this blog. I list books I acquired through purchase, library loans, monthly book box subscription, ARCs, as well as books received from authors. My TBR list continues to grow and I'm hoping to get through most of these titles by the next book haul at the end of April.
HARDCOVERS
Blurb (Goodreads): One hundred and twenty-five years is a long time to nurse a crush. That's how long it's been since Beth Argenis first met Cullen "Scotty" MacDonald and he instantly became the star of her most X-rated dreams. Back then, he was rescuing her from a Rogue Immortal. Now Beth's a Rogue Hunter—a damn good one. She doesn't need saving anymore, despite what Scotty thinks. What she does need is the fierce, wild desire that finally erupts between them. Scotty has hesitated to claim Beth as his own. But one explosive kiss confirms what he's long suspected: She's his life mate. But Beth is tough, fearless, beautiful…and in immortal danger. Unless he wants to lose her forever, he'll have to rethink everything he once believed about love and destiny as well as confront an enemy who's terrifyingly close.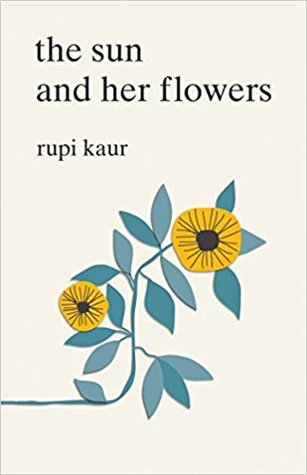 Blurb (Goodreads): From Rupi Kaur, the #1 New York Times bestselling author of milk and honey, comes her long-awaited second collection of poetry. A vibrant and transcendent journey about growth and healing. Ancestry and honoring one's roots. Expatriation and rising up to find a home within yourself. Divided into five chapters and illustrated by Kaur, the sun and her flowers is a journey of wilting, falling, rooting, rising, and blooming. A celebration of love in all its forms.
Blurb (Goodreads): Mara has become used to the extraordinary. Roaming from place to place with Gideon Davorin's Traveling Carnival, she longs for an ordinary life where no one has the ability to levitate or predict the future. She gets her chance when the struggling sideshow sets up camp in the small town of Caudry and she meets a gorgeous local guy named Gabe. But before long, Mara realizes there's a dark presence lurking in the town that's threatening the lives of her friends. She has seven days to take control of a power she didn't know she had in order to save everyone she cares about—and change the future forever
Blurb(Goodreads):The Woman in White famously opens with Walter Hartright's eerie encounter on a moonlit London road. Engaged as a drawing master to the beautiful Laura Fairlie, Walter becomes embroiled in the sinister intrigues of Sir Percival Glyde and his 'charming' friend Count Fosco, who has a taste for white mice, vanilla bonbons, and poison. Pursuing questions of identity and insanity along the paths and corridors of English country houses and the madhouse, The Woman in White is the first and most influential of the Victorian genre that combined Gothic horror with psychological realism. Matthew Sweet's introduction explores the phenomenon of Victorian 'sensation' fiction, and discusses Wilkie Collins's biographical and societal influences. Included in this edition are appendices on theatrical adaptations of the novel and its serialisation history.
Blurb(Goodreads): For years, rumors of the "Marsh Girl" have haunted Barkley Cove, a quiet town on the North Carolina coast. So in late 1969, when handsome Chase Andrews is found dead, the locals immediately suspect Kya Clark, the so-called Marsh Girl. But Kya is not what they say. Sensitive and intelligent, she has survived for years alone in the marsh that she calls home, finding friends in the gulls and lessons in the sand. Then the time comes when she yearns to be touched and loved. When two young men from town become intrigued by her wild beauty, Kya opens herself to a new life–until the unthinkable happens. Perfect for fans of Barbara Kingsolver and Karen Russell, Where the Crawdads Sing is at once an exquisite ode to the natural world, a heartbreaking coming-of-age story, and a surprising tale of possible murder. Owens reminds us that we are forever shaped by the children we once were, and that we are all subject to the beautiful and violent secrets that nature keeps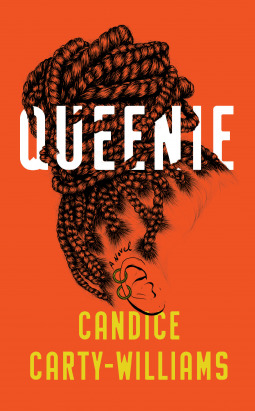 Blurb(Goodreads): Queenie Jenkins is a 25-year-old Jamaican British woman living in London, straddling two cultures and slotting neatly into neither. She works at a national newspaper, where she's constantly forced to compare herself to her white middle class peers. After a messy break up from her long-term white boyfriend, Queenie seeks comfort in all the wrong places…including several hazardous men who do a good job of occupying brain space and a bad job of affirming self-worth. As Queenie careens from one questionable decision to another, she finds herself wondering, "What are you doing? Why are you doing it? Who do you want to be?"—all of the questions today's woman must face in a world trying to answer them for her. With "fresh and honest" (Jojo Moyes) prose, Queenie is a remarkably relatable exploration of what it means to be a modern woman searching for meaning in today's world.
Blurb(Goodreads): Seventeen-year-old Keralie Corrington may seem harmless, but she's, in fact, one of Quadara's most skilled thieves and a liar. Varin, on the other hand, is an honest, upstanding citizen of Quadara's most enlightened region, Eonia. He runs afoul of Keralie when she steals a package from him, putting his life in danger. When Varin attempts to retrieve the package, he and Keralie both find themselves entangled in a conspiracy that leaves all four of Quadara's queens dead. With no other choices and on the run from Keralie's former employer, the two decide to join forces, endeavoring to discover who has killed the queens and save their own lives in the process. When their reluctant partnership blooms into a tenuous romance, they must overcome their own dark secrets in hopes of a future together that seemed impossible just days before. But first they have to stay alive and untangle the secrets behind the nation's four dead queens. An enthralling fast-paced murder mystery where competing agendas collide with deadly consequences, Four Dead Queens heralds the arrival of an exciting new YA talent.
Blurb(Goodreads): Kerra Bailey is a television journalist on the rise, and she's hot on the trail of a story guaranteed to skyrocket her career to even greater heights: an interview with the legendary Major Trapper. Twenty-five years ago, The Major emerged a hero from the bombing of the Pegasus Hotel in downtown Dallas when he was photographed leading a handful of survivors out of the collapsing building. The iconic picture transformed him into a beloved national icon, in constant demand for speeches and interviews–until he suddenly dropped out of the public eye, shunning all members of the media. However, Kerra is willing to use any means necessary to get to The Major–even if she has to wrangle an introduction from his estranged son, former ATF agent John Trapper. Still seething over his break with both the ATF and his father, John Trapper wants no association with the hotel bombing or his hero father, and spurns the meddling reporters determined to drag them back into the limelight. Yet Kerra's sheer audacity and tantalizing hints that there's more to the story rouse Trapper's interest despite himself. And when her interview of a lifetime goes catastrophically awry–with unknown assailants targeting not only The Major, but also Kerra–Trapper realizes he needs her under wraps if he's going to track down the gunmen before they strike again . . . as well as discover, finally, who was responsible for the Pegasus bombing. Kerra is wary of a man so charming one moment and dangerous the next, and she knows Trapper is withholding evidence collected during his ATF investigation into the bombing. But having no one else to trust and enemies lurking closer than they know, Kerra and Trapper join forces and risk their very lives to expose a sinuous network of lies and conspiracy running deep through Texas–and uncover who would want a national hero dead.
Blurb(Goodreads): Fifth century Britain is a country of chaos and division after the Roman withdrawal. This is the world of young Merlin, the illegitimate child of a South Wales princess who will not reveal to her son his father's true identity. Yet Merlin is an extraordinary child, aware at the earliest age that he possesses a great natural gift – the Sight. Against a background of invasion and imprisonment, wars and conquest, Merlin emerges into manhood, and accepts his dramatic role in the New Beginning – the coming of King Arthur.
Blurb(Goodreads): Wizardwood, a sentient wood. The most precious commodity in the world. Like many other legendary wares, it comes only from the Rain River Wilds. But how can one trade with the Rain Wilders, when only a liveship fashioned from wizardwood can negotiate the perilous waters of the Rain River? Rare and valuable a liveship will quicken only when three members, from successive generations, have died on board. The liveship Vivacia is about to undergo her quickening as Althea Vestrit's father is carried on deck in his death-throes. Althea waits for the ship that she loves more than anything else in the world to awaken. Only to discover that the Vivacia has been signed away in her father's will to her brutal brother-in-law, Kyle Haven… Others plot to win or steal a liveship. The Paragon, known by many as the Pariah, went mad, turned turtle, and drowned his crew. Now he lies blind, lonely, and broken on a deserted beach. But greedy men have designs to restore him, to sail the waters of the Rain Wild River once more.
Blurb(Goodreads): I have stolen princesses back from sleeping barrow kings. I burned down the town of Trebon. I have spent the night with Felurian and left with both my sanity and my life. I was expelled from the University at a younger age than most people are allowed in. I tread paths by moonlight that others fear to speak of during day. I have talked to Gods, loved women, and written songs that make the minstrels weep. You may have heard of me. So begins a tale unequaled in fantasy literature–the story of a hero told in his own voice. It is a tale of sorrow, a tale of survival, a tale of one man's search for meaning in his universe, and how that search, and the indomitable will that drove it, gave birth to a legend.
PAPERBACKS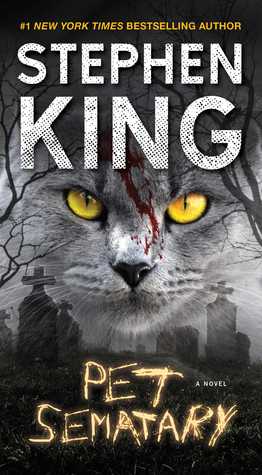 Blurb(Goodreads): When Dr. Louis Creed takes a new job and moves his family to the idyllic and rural town of Ludlow, Maine, this new beginning seems too good to be true. Yet despite Ludlow's tranquility, there's an undercurrent of danger that exists here. Those trucks on the road outside the Creed's beautiful old home travel by just a little too quickly, for one thing…as is evidenced by the makeshift pet cemetery out back in the nearby woods. Then there are the warnings to Louis both real and from the depths of his nightmares that he should not venture beyond the borders of this little graveyard. A blood-chilling truth is hidden there—one more terrifying than death itself, and hideously more powerful. An ominous fate befalls anyone who dares tamper with this forbidden place, as Louis is about to discover for himself…
ARCs
Blurb(Goodreads): Newlyweds Brooklyn and Derek are enjoying the final days of their honeymoon in Paris. As they're browsing the book stalls along the Seine, Brooklyn finds the perfect gift for Derek, a first edition James Bond novel, The Spy Who Loved Me. When they bump into Ned, an old friend from Derek's spy days, Brooklyn shows him her latest treasure. Once they're back home in San Francisco, they visit a spy shop Ned mentioned. The owner begs them to let him display the book Brooklyn found in Paris as part of the shop's first anniversary celebration. Before they agree, Derek makes sure the security is up to snuff—turns out, the unassuming book is worth a great deal more than sentimental value. Soon after, Derek is dismayed when he receives a mysterious letter from Paris announcing Ned's death. Then late one night, someone is killed inside the spy shop. Are the murders connected to Brooklyn's rare, pricey book? Is there something even more sinister afoot? Brooklyn and the spy who loves her will have to delve into the darkest parts of Derek's past to unmask an enemy who's been waiting for the chance to destroy everything they hold dear.
Blurb(Goodreads): Maddox Kinkade is an expert at managing the impossible. Tasked with neutralizing a lethal bioweapon, she turns to the one person capable of helping her stop the threat of pandemic in time: the love of her life, back from the dead and mad as hell at her supposed betrayal. Recruiting Cole to save millions of lives may be harder than resisting the attraction still burning between them, but Maddox will do whatever it takes…even if it destroys her. When Maddox crashes back into Cole Matthews' life, he wants to fight back. He wants to hate her. But the crisis is too strong to ignore, and soon the two former lovers find themselves working side-by-side in a breakneck race to stop a world-class killer with a secret that could end everything
Blurb(Goodreads): Lottie collects dead creatures and lovingly cares for them, hoping to preserve them, to save them from disintegration. Her father understands—Lottie has a scientific mind, he thinks. Her aunt wants it to stop, and she goes to cruel lengths to make sure it does. And her mother? Lottie's mother died long ago. And Lottie is searching for a way to be close to her.The Art of Taxidermy is a heartbreaking verse novel exploring love and death, grief and beauty, and the ways we try to make sense of it all.
Blurb(Goodreads): Dr. Leonid Altshuler M.D., a board-certified psychiatrist, went through years of misdiagnosis and suffering before he discovered what you are about to learn. Here's how Dr. Altshuler puts it: "There are millions people all over the world going to see psychics, regularly, trying to find out what going to happen to them in the future." One theory of how psychics achieve their succes is that there is a universal field of the energy, called the Akashic record, which contain all the information about all the events in the past, present and the future. We do not need a psychic to help us access this information. In this book I will describe a practical method of connecting to the Akashic record, which I learned on a trip to Nepal, where I spent a lot of time in a Temple, being tought by Masters. If you are in any way interested in how the past, present and future are connected this book is a must.
Blurb(Goodreads): In return for a random act of kindness, scholar Li Bai Chang presents young cook Kat Holloway with a rare and precious gift—a box of tea. Kat thinks no more of her unusual visitor until two days later when the kitchen erupts with the news that Lady Cynthia's next-door neighbor has been murdered. Known about London as an "Old China Hand," the victim claimed to be an expert in the language and customs of China, acting as intermediary for merchants and government officials. But Sir Jacob's dealings were not what they seemed, and when the authorities accuse Mr. Li of the crime, Kat and Daniel find themselves embroiled in a world of deadly secrets that reach from the gilded homes of Mayfair to the beautiful wonder of Kew Gardens.
AUDIOBOOKS
Blurb(Goodreads):When a beautiful, aspiring writer strides into the East Village bookstore where Joe Goldberg works, he does what anyone would do: he Googles the name on her credit card. There is only one Guinevere Beck in New York City. She has a public Facebook account and Tweets incessantly, telling Joe everything he needs to know: she is simply Beck to her friends, she went to Brown University, she lives on Bank Street, and she'll be at a bar in Brooklyn tonight—the perfect place for a "chance" meeting. As Joe invisibly and obsessively takes control of Beck's life, he orchestrates a series of events to ensure Beck finds herself in his waiting arms. Moving from stalker to boyfriend, Joe transforms himself into Beck's perfect man, all while quietly removing the obstacles that stand in their way—even if it means murder.

Have you read any of these titles? Any particular opinion on them? Please let me know on the comments below and HAPPY READING! 🙂